Our Graffiti Tour Medellin offers you a look at the transformation of the city of Medellín during the last 20 years, through a tour around Comuna 13 and previously known as one of the most dangerous neighborhoods in the world, today the city is full of artistic expressions of street art, social contrast, violence, corruption, threats to the environment, are some of the main themes of urban art in the commune 13 of the city of Medellin Graffiti is increasingly well known and its creators too They are no longer anonymous. Many local graffiti artists gained great momentum, and their images covered urban spaces in other world metropolises. Over time, their work began to communicate more and more local elements, from paisa folklore to criticism of the current socio-political situation in the country.
On this tour, they themselves talk about their work in terms of fun, religion etc. We will find the graffiti artists always worked together and never stop doing graffiti. They are worth seeing. We will visit Graffiti artists, whose groups of artists together promote the message of peace in Comuna 13.
Another place to visit in commune 13: They are the first public escalators located in the "Las Independencias" neighborhood, which are a benchmark of social urbanism, later we will board the Metrocable San Javier, El metrocable.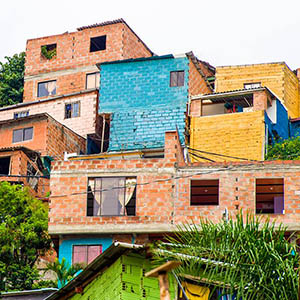 It includes:
Pick up at the hotel or apartment.
Private transportation with air conditioning.
Local guide speaks English or Spanish.
Metro cable tickets.
Tasting typical Colombian snack
Contact us for more information