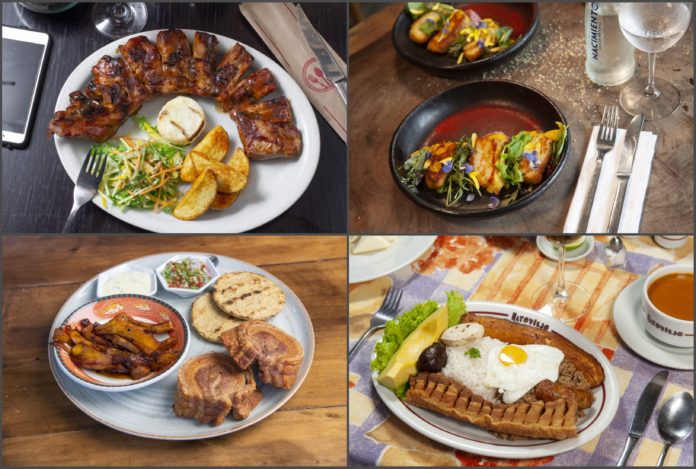 -El Carmen: located in a beautiful house in the neighborhood of El Poblado, offering contemporary food, the menu breathes with local ingredients and flavors in creative and modern dishes and preparations. Always focused on quality and technique, the gastronomic proposal is diverse, innovative and always delicious. With its craft cocktail program and warm service, Carmen Medellín has a cozy and elegant atmosphere.
-El rancherito: For those tourists who visit Medellin, this is an excellent place to taste Colombian gastronomy. There are many local dishes and many options from other regions of Colombia. The bean casserole or the paisa tray since here they make them truly as the original dish is. It has a very extensive menu and a variety of drinks for all tastes. Ideal place to watch football matches is ideal and share with friends and locals.
-Sancho Paisa: typical traditional Colombian food is cooked, where you can enjoy and share the flavor of the Paisa region and the country in one place. Delight yourself with really homemade seasoning, you can find from breakfasts, entrees, snacks, traditional and vegetarian lunches.
-The province: its specialty is Mediterranean cuisine with an oriental touch; each dish is prepared by professionals who express all their knowledge there, which is why the restaurant is cataloged as a high-class gastronomic reference. The modern and elegant atmosphere, together with the excellent food and good service.
-Mondongos: a unique place of its kind, especially aimed at bringing together Antioquian families around a very paisa dish: Mondongos is a most recognized typical Antioquian food restaurant in the city. It has a menu of 13 dishes and is highly recognized within the gastronomic sector at a national level and with international prestige.
-Mistura: with a modern and sober decoration where you can share with family or friends. It is a place where you can enjoy its Peruvian flavors, sushi and an extensive Gin and tonic menu. its most recommended dishes such as fish in yellow chili, mixed rice or adventure ceviche. In this restaurant you live from the art of cocktails where you live an experience of the world variety.
-La Pampa: The Best Argentine Grill in the city of Medellin, with an atmosphere that makes you feel in the land of tangos and barbecues, Enjoy The Magic of the True Gaucho Flavor you find it in an exclusive Mall in Las Palmas and in the Provenza neighborhood both in Poblado.
-Mercados del rio: a gastronomic benchmark for high-quality entertainment, it is a perfect pairing option for all audiences, with 37 gourmet proposals and an offer of wines and beer at honest prices similar to supermarket prices. We innovate in happiness; proposing pairing as fashion and a means of social interaction.
-Malevo: a small dining room, located in a cozy house in Manila, is full of Argentine books, (bebes mate de, the traditional drink of Argentina) a restaurant that will present a faithful representation of Argentine cuisine. There is no fusion with Colombian food here. Instead, all recipes are sourced directly from Argentina. There is a mix of grilled steaks, sausages, pastas and comfort food.
-El Cielo: It is a restaurant that is located in the middle of the pink zone of Medellín, it stands out for its creative and original cuisine with an avant-garde trend using innovative preparation techniques such as the molecular cooking process or also known as advanced cuisine, but without skip techniques.