GRAFFITI AND PABLO ESCOBAR MIXED TOUR Our Graffiti Tour Medellin offers you a look at the transformation of the city of Medellin…
PABLO ESCOBAR, GRAFFITI AND COMMUNE 13 TOUR

In the nineties, graffiti almost completely disappeared since many paisas were afraid to go out to paint in the streets because for a long time, the Convivir (organizations from which the paramilitary groups emerged) had social control in the neighborhoods, added to the crudeness of Pablo Escobar. The owners of the communes enforced their law and did not allow the artists to scratch the walls.
In 2001 several left their fear behind and went out to paint the resurgence of art in the city. Nowadays, people understand that urban artists or graffiti artists are not vandals or that they are at the service of the insurgency or paramilitarism.
All the time they are painting in this area of ​​the city. Some have taken over public spaces and the subway has been a great inspiration for many. Art today is much more accepted by society. In commune 13 we can currently find groups that have many techniques. The graffiti tour has promoted urban art in the 13th commune of San Javier. That commune experienced a period of violence, a product of the armed conflict in the country. All this shows that there is a cultural and pictorial change in the city.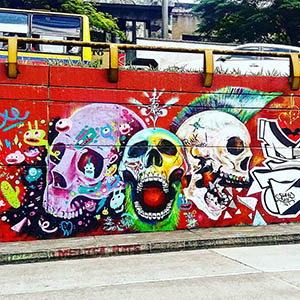 We continue the tour to make the tour of Pablo Escobar Gaviria "the king of cocaine", he was the most important drug trafficker in the world, he was responsible for sowing violence and death in Colombia. At the same time he was idolized by many people who saw him as a benefactor. He became the most dangerous man on the planet.
The tour begins in the 'Los Olivos' neighborhood, the place where the capo was assassinated. Visit ruins of the 'Monaco' building (Pablo Escobar Park), see Dallas buildings, UFO, Monterey shopping center and South River.
Visit Montesacro Cemetery, the most exclusive in Medellín and the most visited for the tomb of drug lord Pablo Escobar Gaviria, where they write messages in memory and in tribute to the head of the Medellí Cartel.
Ending our tour in the Pablo Escobar neighborhood, which includes 800 houses and a church donated by the capo in which 16,000 inhabitants live, is located on the eastern slopes of this city to accommodate people who lived in a dump 1982 this project was called Medellin without slums.
The tour includes:
Pick up at your hotel or apartment.

Air-conditioned vehicle.

English or Spanish speaking local guide.

Typical Colombian snack.

Duration 5 hours.
Contact us for more information or to book.